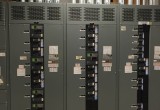 Did you ever wonder what the heart of an electrical system looks like?  This is the main electrical room for…
We got to work on this beautiful place July 2015.

Another one of our current projects is this big one at Harbor Place in Haverhill MA.

Duct Bank work for 400 Wheeler Road Summit project located in Burlington, MA.

Working hard at the worksite!